Whitewater Rafting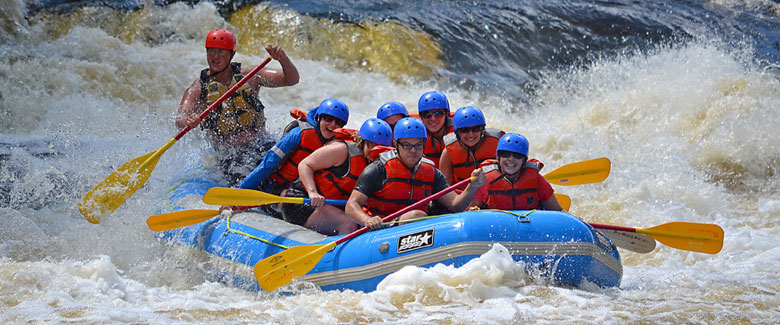 Thornton's Whitewater Rafting Resort has been offering whitewater rafting trips for over 28 years. Since those early days, we now offer whitewater rafting trips on the Peshtigo and Menominee Rivers as well as a leisurely scenic paddle on a beautiful, calm section of the Peshtigo River. The rivers in this part of Northeast Wisconsin provide some of the most thrilling and challenging rafting in the entire Midwest. Our experienced guides and spectacular whitewater rapids combine to give our visitors a memorable adventure.
New to Whitewater Rafting? No need to worry, our professionally trained guides will be sure to teach you the basics of whitewater rafting and what to expect from your whitewater rafting experience.
Peshtigo & Menominee River Trips
Spring Peshtigo River Raft Trips: Class III – IV
Summer Peshtigo River Raft Trips: Class II & III
Fall Peshtigo River Raft Trips: Class II – IV
Scenic Peshtigo River Leisure Paddle
Menominee River Raft Trips: Class II – IV
Whitewater Rafting is a challenge which requires good health and stamina. Although our trips are guided and we take every precaution to make sure our trips are safe, you travel at your own risk. Children should be at least 11 years of age, but in case of changing water levels, age limits may change. Rafters must sign a rafting release of liability form (pdf) and individuals under the age of 18 must have a parent or guardian sign their forms.
Keep In Mind
All rafters should be prepared for any weather conditions Mother Nature has in store as well as all river conditions.
Peshtigo River rafters should be prepared to raft alone in a one person funyak if water conditions are low.
Please be advised that anyone or group that fails to show up for their rafting appointment will be charged the full amount.
In the interest of preserving the quality of the rivers, we do not permit cans, bottles or anything that could litter the river. We rely on Mother Nature for river conditions, so we cannot guarantee high water.
Whitewater Classifications
Class I

Easy - small waves, passages clear: no serious obstacles, perfect for all ages and abilities.

Class II:

Medium - rapids of low difficulty with passages clear. Suitable for everyone, no experience necessary.

Class III:

Moderate - waves numerous, high irregular, rocks and eddies, rapids with passages clear but require experience in maneuvering.

Class IV:

Difficult, long rapids, waves powerful, irregular rocks, boiling eddies: powerful and precise maneuvering required. Need an experienced guide.

Class V:

Extremely difficult, long and violent waves following each other without interruption. Big drops, violent currents, very steep gradient. Paddlers should have prior class IV experience with experienced guides who know the river.